Hero Image

Tracking litter from our 'burbs to the bay
Did you know that 95 per cent of litter that washes up on Port Phillip Bay beaches starts by being dropped onto suburban streets?
To discover just how precisely rubbish makes its way from these suburban streets through stormwater drains and onto our popular beaches, Melbourne Water has partnered with RMIT University to carry out a ground-breaking Litter Trackers project.
Launched in May, GPS-tracked bottles have been tossed into creeks and rivers all over Melbourne, from Werribee to Gisborne to Healesville to Frankston.
The project is the first of its kind for Victoria, and only the second time that litter has been GPS-tracked in Australian waterways.
RMIT University scientists are working in collaboration with Melbourne Water, local primary and high schools and community groups to deploy 100 GPS-tracked bottles in 20 locations across Melbourne's catchments.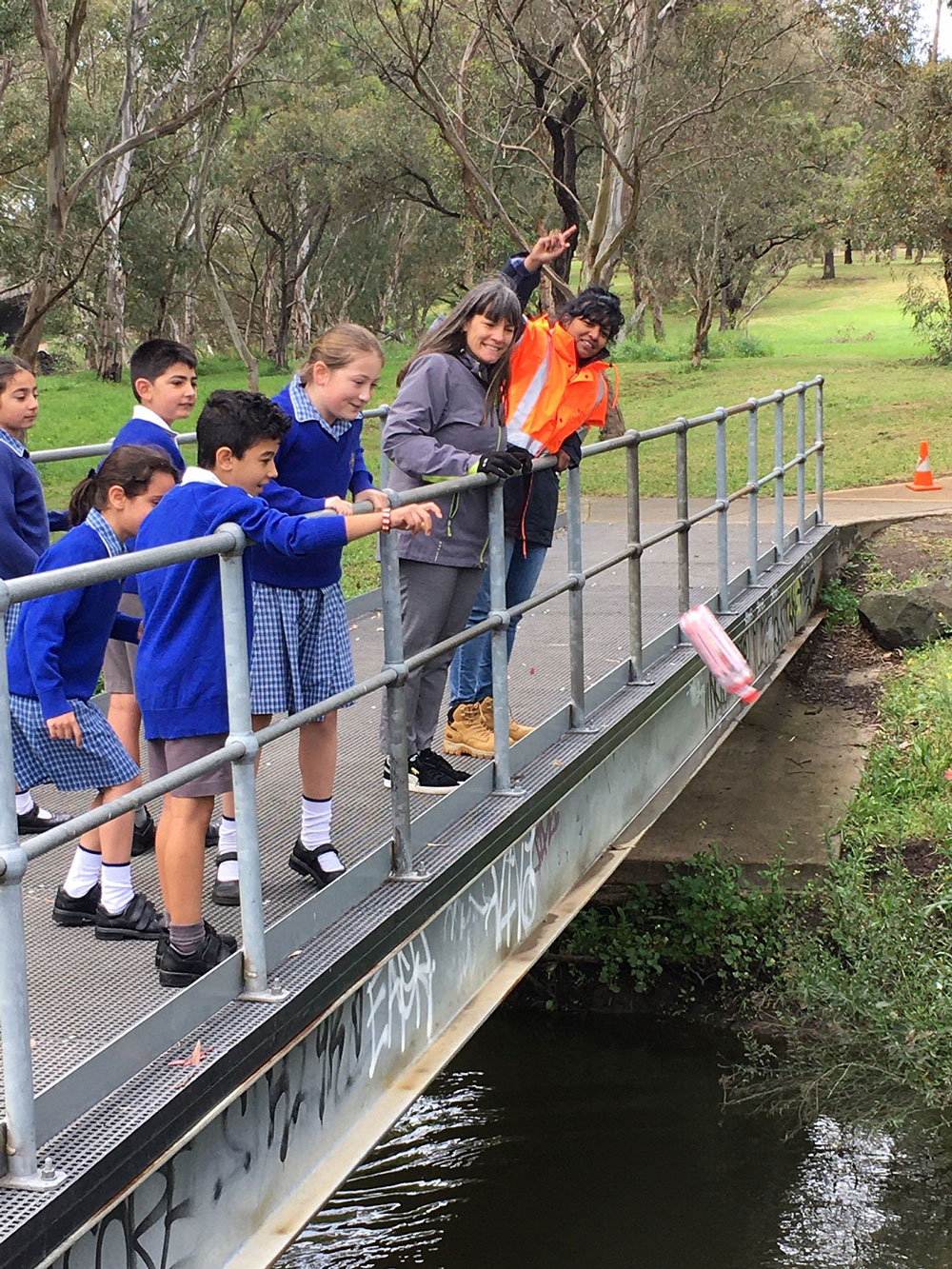 Online interactive maps allow anyone to follow the bottles and discover just how rapidly litter travels through our waterways.
Project leader Dr Kavitha Chinathamby said Litter Trackers gives all of Melbourne a chance to see the true environmental scale of our litter problem and shows how we can all be part of the solution.
"Litter reduces water quality, harms fish and animals, and ruins our city's natural beauty," said Dr Chinathamby.
"To build a more sustainable and liveable future for Melbourne, we need healthy waterways – and that means we need to tackle our litter problem at the source.
"Through Litter Trackers, everyone can get on board with driving this change and create a cleaner, healthier future for our waterways and bays."
Melbourne Water's Waterwatch Lead Yvonne Cabuang says Litter Trackers is a terrific learning tool. 
"Melbourne Water spends millions of dollars a year removing litter from our waterways. This project is an important reminder for everyone to bin their litter," Ms Cabuang said.
As part of the project, classroom materials and teacher resources have been developed to educate school children about littering and its environmental impacts.
The Victorian State Government has funded the Litter Trackers project for two years.
Visit RMIT's Litter Tracker website for more information about the project.