Hero Image

Six-month Working for Victoria program's lasting legacy on Melbourne
A six-month Waterway Blitz program run by Melbourne Water has left a lasting legacy not just on the city's waterways, but also with the more than 100 people involved.
Melbourne Water has run the Waterway Blitz program since August last year. This program has provided over 100 jobs to people through the State Government's Working for Victoria initiative on important projects across greater Melbourne supporting our waterways and catchment teams and in administration.
The program created jobs for people and businesses impacted by the coronavirus (COVID-19) situation – while delivering valuable community services.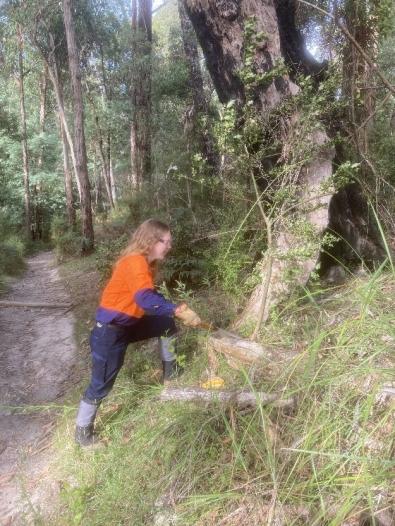 Waterway Blitz crew member Tess Bresnahan, pictured left and who grew up in the Dandenong Ranges, said it had been satisfying to make a substantial difference to outdoor recreation spaces enjoyed by the community.
"I have been fortunate to be part of Melbourne Water's Waterway Blitz Program. I've always had a passion for the environment. This experience has been a great opportunity to contribute to the protection of the many beautiful outdoor spaces around our city."
The stats on the rubbish collected and work undertaken along the waterways by Blitz staff make for impressive reading.
Around 640 cubic metres of rubbish has been collected – equivalent to 2660 wheelie bins worth – 265km of river banks weeded and replaced with about 20,000 plants for local communities to enjoy.
Crews have covered over 900km of creeks and rivers – more than the distance between Melbourne and Sydney - cleaning up litter, removing weeds and carrying out planting to assist in our essential work caring for the city's waterways and land.
Melbourne Water's Waterway Blitz Manager Rob Considine praised those involved for their commitment to ensuring the Waterway Blitz had been a hugely successful initiative.
"Whether that's been picking up litter, pulling out weeds to install new plants to brighten up a creek bed or a parkland, they have created a lasting legacy for Melbourne's waterways," Mr Considine said.
"It's been overwhelmingly positive the feedback from the numerous community groups and local councils these crews worked with.
"They have made a real and positive difference to Melbourne's waterways and surrounds."
Media contact: Bradley Green – 0429 407 152