Hero Image

Planting blitz encourages frogs to hop into improved Davis Creek habitat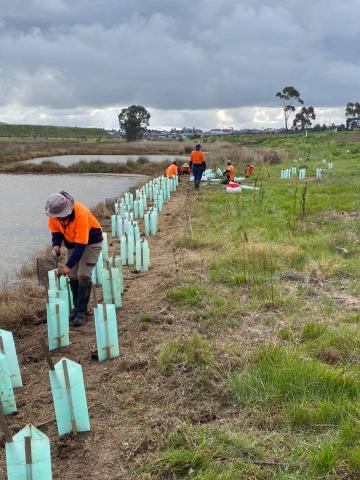 Thousands of native species have been planted along a key waterway in Melbourne's west to improve the habitat for one of Victoria's most threatened frog species.
Melbourne Water crews (pictured right) spent a week working along the Davis Creek corridor in Tarneit, a well-known habitat for the endangered Growling Grass Frogs, planting an impressive haul of 2300 unique types of plants.
They include aquatic species such as water ribbons as well as River Red Gums, wattles and nardoo ferns.
The new plants will help improve biodiversity along the creek  and provide protection, food and optimum breeding conditions for the threatened Growling Grass Frog population.
Melbourne Water's Waterways and Land Officer Tori Vincent said the large-scale project would restore Davis Creek, which flows into the Werribee River.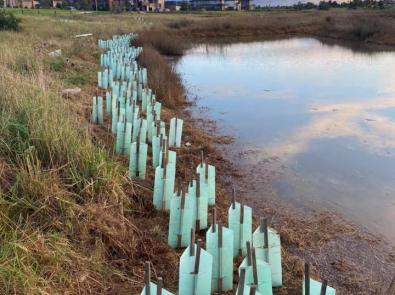 "This area was almost completely devoid of native vegetation. This extensive planting will provide a rich environment for the endangered Growling Grass Frog and other species, while also vastly improving the area as a green space for the community to use and enjoy," Ms Vincent said
"We also wanted to use plant species that were local to the area. In the long-term this will transform into a healthy wetland haven for the local community to enjoy."
Ms Vincent said Melbourne Water would continue to explore options to carry out future projects to keep restoring the area.