Hero Image

No masking the message on litter in new mural at Sunshine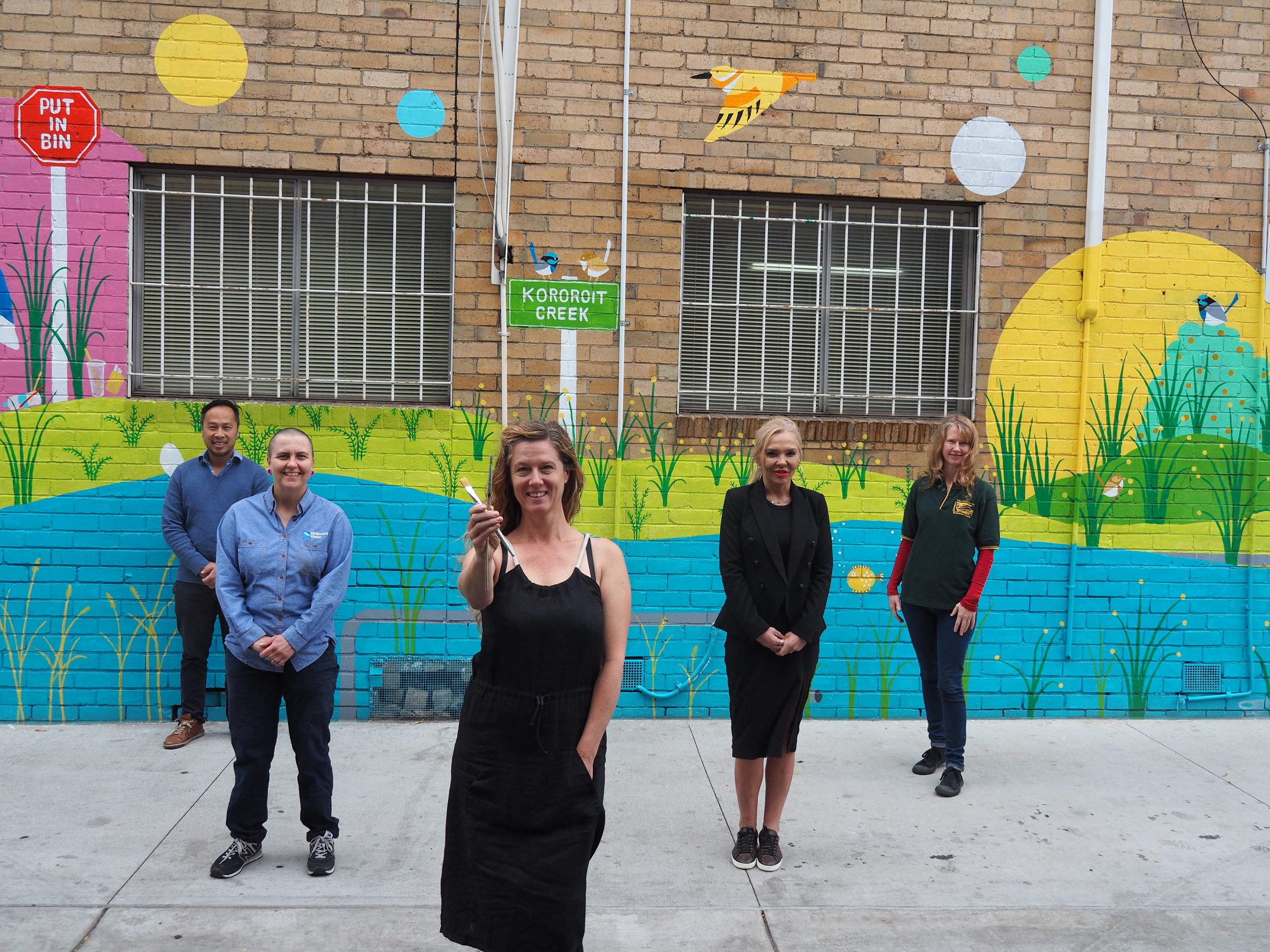 A bright new mural at the Sunshine shopping precinct will turn heads for its colour and fun – but the artwork also aims to educate the community about caring for the local environment.
Melbourne Water and Brimbank City Council commissioned the mural as part of the water authority's Litter Action Project – with support from the Sunshine Business Association and Friends of Kororoit Creek.
Melbourne Water's Waterwatch Coordinator Dr Teresa Mackintosh said the mural is eye-catching – aimed at capturing the attention of passers-by – especially children.
"We wanted a design that was bright, colourful and playful," Dr Mackintosh said.
"At first glance you see the birds, trees, frogs and platypus. Then you realise there are coke cans and plastic bags surrounding them. The artwork's message is clear – bin your rubbish and keep our local rivers and creeks litter free."
Childhood memories of exploring Kororoit Creek in Melbourne's west provided the inspiration for artist Kathy Holowko.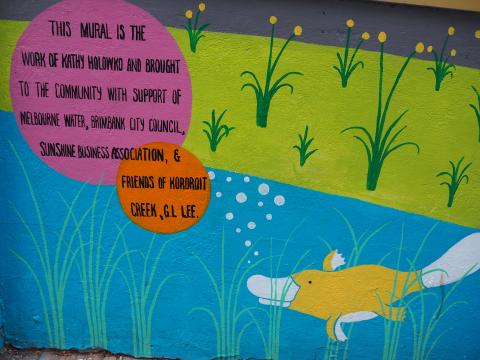 "My grandparents lived near the banks of Kororoit Creek and as a child, I loved to explore it.
"After floods I would see the impact of litter being caught in the branches of trees along its banks. I've captured this childhood memory in the mural. The creek has come a long way since then thanks to regeneration, bike paths and community care.
"Programs like Melbourne Water's Litter Action Project is a positive step to educate communities about the importance of putting rubbish in the bin," Ms Holowko said.
Brimbank City Council Mayor Ranka Rasic said the mural is a permanent reminder to the community of the beautiful environment that surrounds their suburb - and the importance of keeping it clean of litter for all to appreciate.
"This new litter action mural sits in pride of place close to our Brimbank Community and Civic Centre in Sunshine. We hope it will foster a curiosity and an appreciation of natural spaces and sensitivity to litter and rubbish dumping," Cr Rasic said.
"Public art helps us to connect with the places where we live, work and visit. Importantly, it can also prompt us to pause and reflect on our heritage, communities, environment and aspirations.
"The mural combines art with environment and captures the importance of us all taking care of our surroundings."