Hero Image
New technology a game changer for the endangered Grayling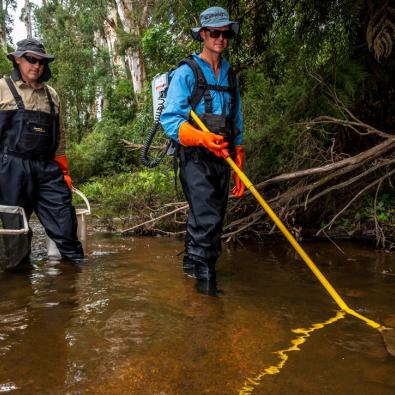 In an Australian first, Melbourne Water and the Arthur Rylah Institute for Environmental Research (Department of Environment Land Water and Planning) is using cutting edge technology to tag and track the endangered Australian Grayling and other native migratory fish in the Tarago and Bunyip Rivers.
The Passive Integrated Transponder technology will help inform and support better conservation management. 
Melbourne Water's Environmental Water Delivery Lead Sarah Gaskill said the purpose of the innovative technology is twofold.
"It will allow us to better understand the migratory behaviours of these fishes and links to environmental conditions, and how delivery of environmental water flows may help them move and thrive.
"'We have been studying the fish in this waterway for around 12 years with the help of the Arthur Rylah Institute and are excited with this new technology.
"We have installed three 'listening' stations along the Tarago and Bunyip Rivers and tagged around 150 native migratory fish, including Australian Grayling, Tupong, Common Galaxias and Short Finned Eels.
"When the fish pass a listening post we receive a signal on our system – this is real time live data. We can link this back to conditions in the waterway to understand what flows they need to move and when.
"This in turn informs us of when to deliver extra environmental water flows from the Tarago reservoir upstream to help support their lifecycles," Ms Gaskill said.
For now, the team are closely monitoring the autumn flows in the river to observe the downstream movement of the fish.
For the Australian Grayling, it may mean a 100-kilometre round trip! They swim the 50 kilometre journey downstream to spawn and then make the 50 kilometre return back upstream.
They will be tracked every part of their amazing swim thanks to the technology monitoring their extraordinary life cycles.
Findings from the first data readings will continue to inform Melbourne Water, researchers and scientists about the best waterway conditions for the Australian Grayling and other native fishes in the system.
Water for the environment

Our waterways are an important resource shared by people, plants and animals. That's why we set aside water for the environment.