Hero Image

National accolades from industry peers for Melbourne Water projects
Two visionary Melbourne Water projects have received prestigious national recognition in the 2021 Australian Water Awards held in Adelaide.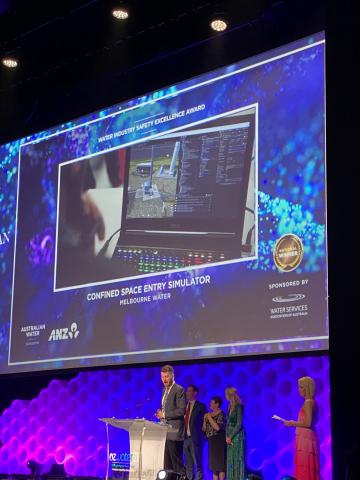 Melbourne Water, in collaboration with Aqua Metro Services, claimed the national Organisational Excellence Award for its Wara Paring 'Come Walk the Path' Indigenous Civil Construction Project.
The ground breaking initiative - which won the AWA's Victorian Organisational Excellence Award earlier this year - involves a 100 per cent Indigenous owned civil construction business working on Melbourne Water projects.
The project's ambition is to create further job opportunities and pathways for Indigenous young people across the water industry.
Melbourne Water also won the Water Industry Safety Excellence Award for its pioneering Confined Space Entry Simulator.
The Confined Space Entry simulator, is a unique and world first safety training tool developed in partnership with Deakin University's CADET Virtual Reality Training and Simulation Research Lab.
The simulator provides a 'real world ' learning environment for Melbourne Water staff and contractors who regularly enter confined spaces like sewers to conduct maintenance and repairs.
Melbourne Water Managing Director Michael Wandmaker said winning a national award was important recognition from the industry.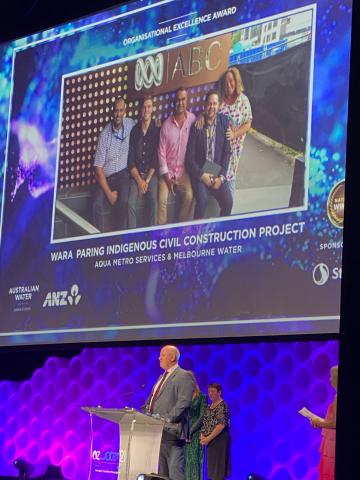 "We aspire to be industry leaders in innovation, safety, equality and diversity. I'm proud of our staff involved in these projects. This recognition of their ground breaking work is well deserved," Mr Wandmaker said.
The national winners were announced at the OzWater'21 Gala Dinner in Adelaide overnight.
The Australian Water Awards recognise the outstanding achievements of individuals and organisations for their contribution to the water sector and the communities in which they serve.
Nominees are acknowledged for leading and inspiring positive change in the sector and helping to drive a sustainable water future.
Media contact: Bradley Green – 0429 407 152