Melbourne Water wins innovation award for enhancing Dandenong Creek project
In the same week, Melbourne Water's Enhancing our Dandenong Creek project has won both the National Program Innovation Award, announced at OzWater'19, and the Institute of Public Works Engineering Australasia (IPWEA) Excellence in a Public Works Project over $5M award.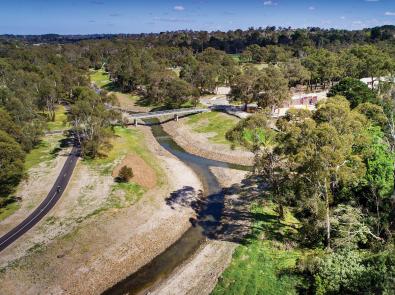 The National Program Innovation Award recognises the contribution of the Australian Water Association members for their leadership and innovative programs. Finalists for this year's awards were drawn from state-based award winners.
While the IPWEA (Victoria) Engineering Excellence Awards provide opportunity to recognise excellence in public works innovation, development, construction and/or management.
The Enhancing Our Dandenong Creek project was designed to improve amenity and liveability, reduce stormwater pollution, create habitats for native fish and manage the impact of non-compliant wet weather sewage outflows into the creek.
Melbourne Water, initially faced with a conventional upgrade to meet sewage containment obligations for Dandenong Creek, instead took an innovative and collaborative approach. This opened up an opportunity to take greater leadership, do things differently and achieve greater outcomes for the community.
Melbourne Water, Project Manager, Sarah Watkins explained that rather than just improving the sewer, Melbourne Water decided also to look at how to better manage the risk of sewer overflows and deliver measurable on-ground benefits. 
"We worked with the Victorian Environment Projection Authority to investigate alternative ways to improve water quality in Dandenong Creek," she said.
"Long-term investigations showed that pollution from nearby industrial areas and residential stormwater run-off was the primary stressor impacting the health of Dandenong Creek." 
The project team sought endorsement from the community and progressed to a collaborative approach to gain community support. This included establishing a deliberative panel consisting of 24 community panel members sourced from within the Dandenong Creek catchment.
"We wanted to put the affected community at the heart of our decision making, and the most appropriate way to do that was to talk to them. 
"We were able to learn a lot about local community values and what outcomes they wanted to see."
The Enhancing Our Dandenong Creek project was also developed in partnership with a number local councils, community groups, local businesses and state agencies.
Over a 5-year period $15 million has been invested to undertake significant works which includes:
revitalisation of 12 billabongs and wetlands along the creek corridor
removal of 830m of drainage pipe to 'daylight' and naturalise the creek, and
construction of 20 fish habitats, including breeding areas, a fish stocking program and reintroduction of two threatened fish species.
"Melbourne Water is looking forward to collaborating with project partners and the community over the next five years to continue to improve this much loved waterway," Ms Watkins concluded.
People are encouraged to find out more about the Enhancing Dandenong Creek project and have their say by visiting https://yoursay.melbournewater.com.au/enhancing-our-dandenong-creek
Media contact
Catherine Garrett