Hero Image

Melbourne Water names successful Innovation Competition winner
After a highly competitive local and global competition to search for innovative ideas to reduce its greenhouse gas emissions, Melbourne Water has chosen the Cranfield University/AECOM/RMIT group for its pitch for a method to lower greenhouse gas emissions from sewage treatment by a whopping 90%.
From a quality field of proposals, the Cranfield University/AECOM/RMIT group was assessed as the best overall detailed solution in the Scope 1 Emissions Innovations Competition. The group's pitch offers potential for both a high degree of reduction in direct emissions and also improving energy efficiency, relative to conventional treatment processes.
General Manager Integrated Planning Chris Williams said the quality and diversity of the submissions was impressive. 
"The aim of the competition was to spark innovative ideas for measuring or reducing greenhouse gas emissions from sewage treatment processes.
"The competition encouraged a creative approach to how sewage is treated and what changes could achieve reduced greenhouse gas emissions," Mr Williams said.
The detailed solution from the Cranfield University/AECOM/RMIT group included some unit operations which are established and mature technologies and combines these with newer elements in a way that reduces dependency on biological processes that are more prone to greenhouse gas emissions.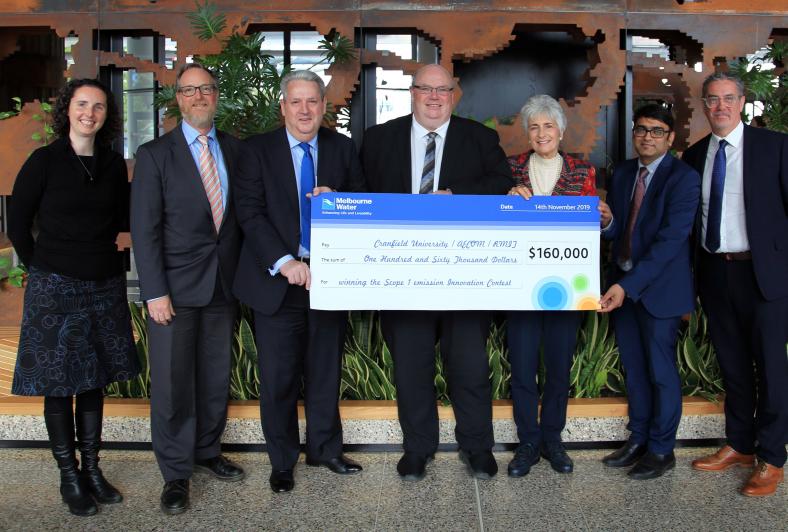 Technical Director, AECOM Peter Hillis said the group is excited to be moving to the next phase of work.
"On behalf of the group, I would like to thank Melbourne Water for the opportunity to develop our approach and a new paradigm in wastewater treatment."
The competition prize was co-funded by Liveability Victoria and will be used to further develop and test key elements of the proposal at lab scale.
This is expected to take around 8 months. Beyond this, further design and pilot scale testing work would be required to assess potential feasibility for larger scale implementation.
For more information about our projects and initiatives to reduce our carbon footprint and generate more renewable energy, visit Our Path to Net Zero page, or contact us.
Media : Catherine Garrett : 9679 7004