Hero Image

Meet our essential workers: Stuart Cochrane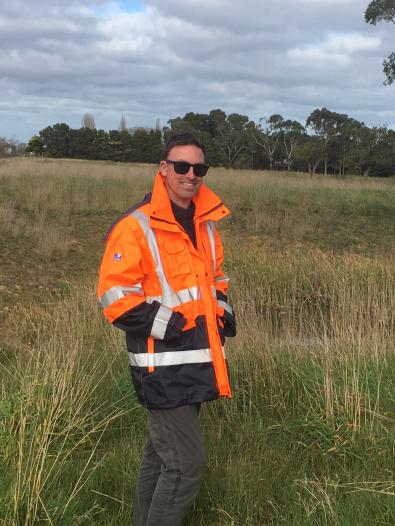 As an essential service provider, Melbourne Water's staff continue to ensure reliable water, sewerage and drainage services, as well as protecting the environmental health of Melbourne's rivers and creeks.
Our essential workers provide safe drinking water and help to protect the health and environment for communities across greater Melbourne, and we want to highlight the great job they are doing every day.
Stuart Cochrane is part of our Waterways and Land team working in the south-east of Melbourne.
What is your role at Melbourne Water and what does that entail on a daily basis?
I'm a Waterways and Land Officer for the Frankston City Council and the Shire of Mornington Peninsula Council regions. My day-to-day work includes working on council development referrals, community and stream frontage grants and waterway and land maintenance tasks. Also site visits for works that are undertaken in my area.
How has your work load/working day changed in the current environment?
Having two children that are home schooled and a child that attends kinder three days a week has changed my priorities to ensuring they have everything they need for the day and utilising their downtime to engage in work. Also working after hours helps to keep on top of the workload. No travel time to the office has been helpful also. We have always had the ability to work remotely so it has been interesting to hear from other people and other organisations about how they are coping.
What challenges are you facing to do your job? What have you learned from this experience?
The challenges are ensuring your obligations and deadlines are met, I have learned to reach out to colleagues more, as everyone is either on the phone or skype . Keeping the kids at arm's length during meetings and staying focussed has certainly been a fun challenge.
How are you practising social distancing on the job?
Travelling in the car by myself, ensuring site visits are kept to a minimal and ensuring only those that really need to be there are. Keeping the minimum 1.5 metre separation between people, and only go to site of there isn't an alternative.
In general, how are you coping both personally and professionally from this new working environment?
Professionally it is challenging not having the daily face-to-face connection, but having the flexibility to work later in the day has been great. Personally I like to always be busy, but I have learnt to turn off when required and go for a walk, it has also made me reach out to my own circle of friends more.
How are you being supported by your colleagues, manager?
By having the ability to speak up if I need to divert some of my work load to others, constant check ins and having a buddy system - a colleague to talk to daily on the phone or Skype. The whole organisation has been amazing at this time and I think it lays the blueprint for others to follow suite.
What do you love most about your role?
I enjoy the environmental side of the role like implementing pest control programs and weed control programs. But I also love the variety of stakeholders you get to engage with. I enjoy the mental challenge of commenting on referrals and providing development advice.  The colleagues I work with makes coming to work - or home - enjoyable as Regional Services is a very professional and caring component of the business.