Hero Image

Meet our essential workers: Shekiah Inglis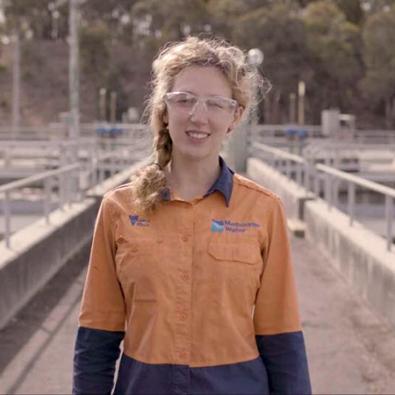 Meet Shekiah, part of the Water Supply team at our Winneke Water Treatment Plant. Find out how she's helping to provide safe and clean drinking water to the community, as part of our series on essential workers.
Melbourne Water: What is your role at Melbourne Water and what does that entail on a daily basis?
Shekiah: I am a Water Supply Operator based in the Winneke Team. Within this team we are responsible for Winneke and Yan Yean Water treatment plants. My role is responsible for providing safe and clean drinking water to the public. This is achieved through routine checks and maintenance of the plant and equipment, laboratory testing and chemical deliveries.
How has your working day changed in the current environment?
The Winneke team is normally a team of eight, but to ensure we can keep producing safe drinking water, the team has been split into two teams of four. Each team is working out of different offices and have access to separate kitchens and toilets to minimise face-to-face crossover. This way, if one team has to self-quarantine, the other team will be able to continue carrying out water treatment. We are also reliant on technology more than ever to communicate with other team members and help each other out when issues arise.
What challenges are you facing to do your job? What have you learned from this experience?
Maintaining segregation from the other team has been hard in this working environment given we normally share so many responsibilities and are readily available to assist each other. On the flip side I am learning to be more self-reliant and back my decision making as I become more comfortable with the workplace changes that have arisen from COVID-19.  
How are you practising social distancing on the job?
Melbourne Water has been very firm since the COVID outbreak about social distancing. Segregation of our team is one measure, but Melbourne Water has given the directive to separate all operator offices from the rest of the business. Working with our major maintenance contractors also provides its challenges as we are in and around each other everyday. So the focus has been on reducing face-to-face contact where possible and practising good hygiene measures. For example, some of our daily maintenance meetings have been changed to Skype meetings and we've been instructed to limit face-to-face time when issuing 'Permits to Work' and undertaking safety conversations. At times it's also meant delaying non-essential work or jobs that can't be carried out under the current social distancing rules.
In general, how are you coping both personally and professionally from this new working environment?
To be totally honest, it has been a pretty intense and draining couple of weeks. Not only have we had to hit the ground running with the changes implemented within our team and workplace, but the change in lifestyle at home has made it harder to switch off and relax because we can't enjoy the simple pleasures of going out for dinner, seeing friends or catching a movie. I hadn't realised how much these things contribute to good mental health! On the other hand, I am grateful for the routine of going into work to help maintain some sense of normality in these crazy times.
How are you being supported by your colleagues, manager?
Now more than ever we need to work collaboratively, and luckily my team has this pretty down pat already. Having our team split in half means that we all need to be communicating and having each others backs so that nothing slips through the cracks. This isn't just business as usual for us, we're all under the pump to continue to deliver a seamless essential service in what has been a pretty bumpy environment, so checking in on each other is super important, and I'm proud to say that it's being done really well so far.
What do you love most about your role?
I think it would be the satisfaction of knowing how many hundreds and thousands of people I am helping every day in providing safe quality drinking water. There is so much more to water than just turning on the tap.
Want to read more about our essential workers? Meet Skye Boyd-Gerny, a member of our natural resource management crew who works to improve biodiversity.
Water treatment

To make sure Melbourne has safe drinking water, we treat it before it leaves our reservoirs. Find out how.