Hero Image

Kids Teaching Kids how to protect and preserve Melbourne's waterways
Hundreds of future environmental leaders representing schools from across Melbourne and regional Victoria have gathered at the annual Kids Teaching Kids Conference, proudly sponsored by Melbourne Water.
The two-day event is taking place at the University of Melbourne and was officially opened with an action-packed morning inside Wilson Hall.
There are almost 400 children and 100 teachers from 49 schools taking part in this year's Kids Teaching Kids Conference - and all are sharing their knowledge, after months of research and planning with export mentors, local stories about their environments.
It's the 20th anniversary of Kids Teaching Kids, the brainchild of father and son duo Richard and Arron Wood, the Deputy Lord Mayor of the City of Melbourne.
Their first event was held in Mildura, on the banks of the Murray River, back in 1999 and has educated over 140,000 students since then on the importance of caring for their local environments.
Those attending were fortunate enough to hear Melbourne Water's Principal Advisor Aboriginal Engagement Nova Peris OAM – a former Olympic and Commonwealth Games Gold Medallist and Federal Parliamentarian – do the Acknowledgement of Country.
Nova also participated in a Q&A session with former Essendon captain Jobe Watson around leadership and achieving goals.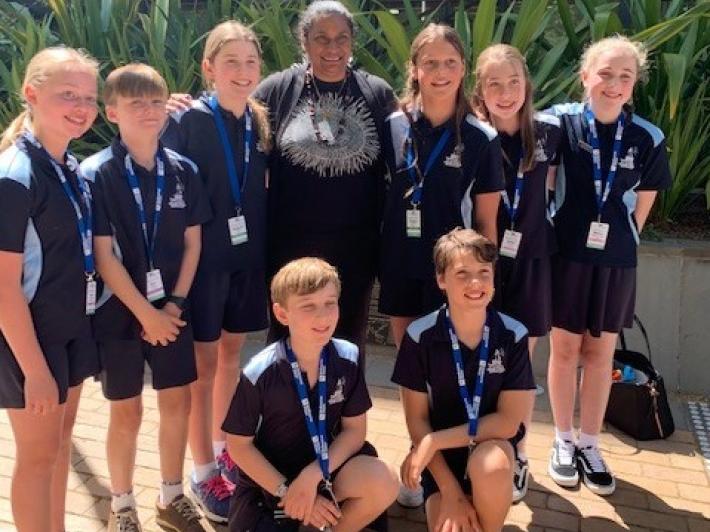 Melbourne Water's Executive General Manager Service Delivery Nerina Di Lorenzo formally opened the Conference and told the crowd they were a generation that could inspire change.
"We know at Melbourne Water that you are our future leaders and that you have a lot to say about the environment and sustainability," Dr Di Lorenzo said.
"You are a fabulous generation really standing up for action on climate change and Melbourne Water is right there alongside you. We want to work together for a better future.
"The Kids Teaching Kids Conference is your opportunity to tell us what we can do better to help ensure a better future. It's also our opportunity to listen to what you have to say – and that's certainly what we will be doing.
"(Melbourne Water) is committed to leading the way, through education, to ensure the community supports initiatives to enhance our vision around a sustainable future."
Students will take part in a series of workshops on day one of the conference, attend a gala dinner tonight hosted by renowned TV weather presenter Mike Larkan while day two of the Conference tomorrow takes them to the Collingwood Children's Farm for the Environmental Project Day.