Hero Image

International Recognition for important Melbourne Water Indigenous Project
A ground breaking initiative involving a 100% Indigenous owned civil construction business working on Melbourne Water projects has been shortlisted for a significant global award by the World Commerce and Contracting Association.
The Wara-Paring, 'Come Walk The Path' enterprise is a collaboration between Melbourne Water and engineering company Aqua Metro Services.
It has been acknowledged as outstanding in the Delivering Economic and Social Benefit Award by the prestigious Association.
Melbourne Water's Strategic Procurement Manager Leanne Hill said the Wara-Paring Come Walk the Path initiative is fully Indigenous owned and offers training and development for Aboriginal employees across a variety of significant Melbourne Water projects.
"The aim is to expand the business to create further job opportunities and pathways  for Indigenous young people across the water industry.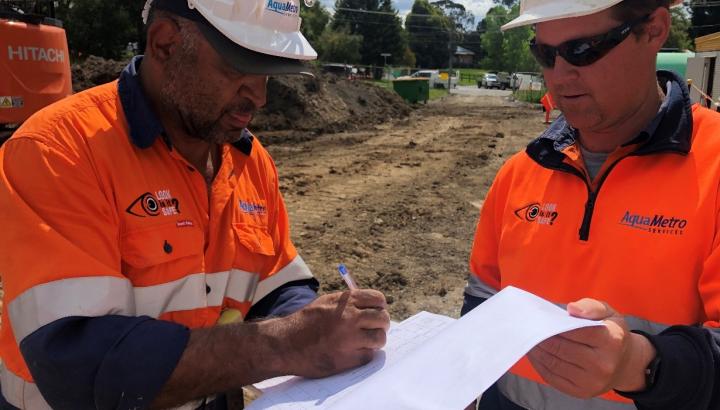 "Melbourne Water and Aqua Metro Services have a passion for this work and collaboration is at the heart of this significant project.
"Wara-Paring is providing exciting employment opportunities for Victorian Aboriginal people and Melbourne Water in turn gets the benefit of the expertise and insight of an innovative and growing company.
"We are honoured to be acknowledged in this shortlist of APAC  nominees including Auckland Transport, GROW Gippsland and AusNet Services," Ms Hill said.
Aqua Metro Services Manager Soyun Punyadasa says Wara-Paring continues to grow from strength to strength.
"The creation of Wara-Paring is an example of what can happen when like-minded and innovative organisations join forces to support social value through meaningful programs. 
"The Wara-Paring team are blazing a trail to help create employment for Indigenous Australians. We hope that other organisations can follow this example to create a legacy of positive change in our Country," Mr Punyadasa said.
The 2020 World Commerce and Contracting Innovation and Excellence Award winners will be announced on Monday.
Media Catherine Garrett : 0429 219 084