Hero Image

The Growling Grass Frog tango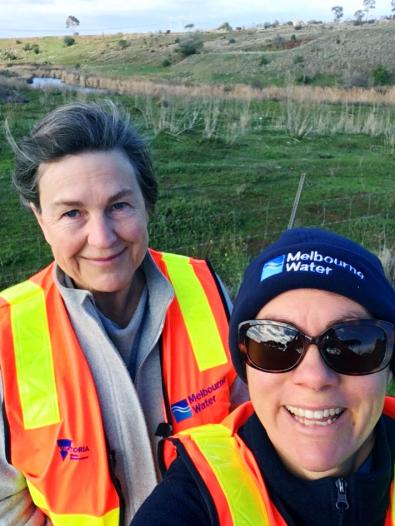 What is your job at Melbourne Water?   
We manage Melbourne Water's Growling Grass Frog (GGF) Masterplan Program.
The Program involves constructing about 80 breeding wetlands over the next two decades as development occurs in Melbourne's growth corridors. These areas are part of the traditional lands of the Wadawurrung, Wurundjeri and Bunurong peoples. We acknowledge the Traditional Owners of this land and pay our respects to their Elders, past and present.
Why do you job share?
Our role requires a wide range of capabilities to design and implement the new program and embed it into many work processes across the organisation. We have a compatible combination of skills, problem solving approaches and networks.
Kathy: I'm an ecologist with a long career in policy and program management. In recent years I developed the GGF Masterplan and worked on growth area planning, so I bring that history and experience to this role.
Sara: I'm a generalist and a 'fixer', with a passion for the environment as well as program and process improvement. I've worked at Melbourne Water for 12 years in numerous waterways and land roles, and am passionate about what we do, and how we can do it better.
I was initially nervous applying for the job as it was advertised as a full-time role. I have young family commitments but was able to discuss this openly with Team Leader, Finn Taylor, who encouraged me to apply regardless. Finn gave me confidence that alternative models, such as job-share, were genuinely available and would be actively considered through the recruitment process.
The interview panel identified that  both Kathy and I had similar motivations, compatible skills, experience, and personalities that would be open to this way of working. Our job-share's success started with this inclusive recruitment process, leadership, decision-making and support.
Kathy: On a day-to-day basis, our success  comes from compatible organisational and communication styles. We're particularly clear about who is responsible for each task, including the many things that we collaborate on. We call our job-share model a 'tango' because we aim to perform the role in a seamless routine.
How often do you both cross paths?
Kathy: In person? Not often enough!
Sara: The job-share covers five days per week, so that the role can react and respond to any urgent customer enquiries or issues. We enjoy a one day overlap in the same office.
Best thing about job sharing?
Sara: The best thing about the job-share is that it allows us to be highly productive and efficient.
I can work autonomously whilst still enjoying the collaboration and inclusivity that a team environment provides. This combination can be tricky at times to achieve in a traditional part-time role. I am experiencing a very high level of job satisfaction working in a job-share with Kathy.
Kathy: I have never felt so productive working three days per week! Sara's enthusiasm and energy levels are inspiring, and I've also benefitted from the support she's given me as a new recruit to Melbourne Water. I believe job-sharing allows managers greater flexibility in resourcing business priorities and opens up more opportunities for our staff.