Hero Image

Good leaders never stop learning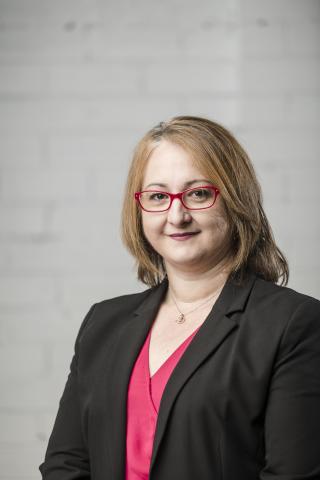 The leadership style and philosophies of Melbourne Water's Executive General Manager, Service Delivery Dr Nerina Di Lorenzo have been shaped and influenced by many people.
From her high school principal, described by Dr Di Lorenzo as a "fierce Scotswoman', to a local government CEO, there's been bits of advice and lessons learnt along the way that have helped define her own style of leadership.
"My time in management roles has helped to evolve and refine the way I work with teams," Dr Di Lorenzo, pictured right, said.
"It's taught me some important lessons about setting the environment for team members to be their best and bring their whole selves to their roles," Dr Di Lorenzo said.
Highlighting her outstanding leadership qualities, Dr Di Lorenzo was this year recognised as one of Victoria's 'Top 50 Public Sector Women' by the Institute of Public Administration Australia (IPAA).
This award recognises the individual excellence and achievement of exceptional female leaders - both established and emerging - in the Victorian public sector and showcases successful female leaders as role models for men and women.
With more than two decades of experience in senior leadership roles, Dr Di Lorenzo is well placed to give advice to those aspiring to take the next step in their careers.
"I have three pieces of advice to share to people aspiring to be leaders," Dr Di Lorenzo says.
"Take a growth mindset with you everywhere - feed your curiosity and never stop learning.
"Determine for yourself what path you want your career to take and work towards what you aspire to become.
"Finally, don't think you have to be perfect in all of the various roles you may be juggling – whether that's a parent, spouse or a staff member. No one is expecting perfection from you at all times.
"Focus on what you want to be doing."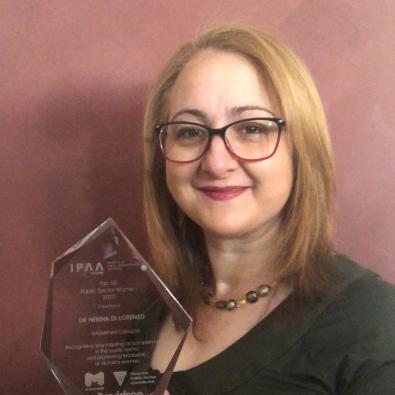 Describing her recent IPAA accolade as "a huge honour", Dr Di Lorenzo said she was inspired by the stories from the range of women included in the 2020 list.
"Working in the public sector and having the opportunity to contribute to the vibrancy, health and wellbeing of the community is a great privilege, one which I am so thankful for," Dr Di Lorenzo said.
"Being included in this award has been a wonderful moment to reflect on this great purpose we share in the public sector, of service to our communities."
Melbourne Water Managing Director Michael Wandmaker congratulated Dr Di Lorenzo on her contribution to the organisation and also the public sector in general.
"We are fortunate to have Nerina's skills and expertise in leadership, asset management, and change management in driving service excellence and supporting our contribution to Melbourne's famous lifestyle," Mr Wandmaker said.
What does Dr Di Lorenzo enjoy the most working at Melbourne Water?
"Working with the diverse range of people," she declares. While there's a broad range of backgrounds, skills and technical disciplines, there is one highly unifying factor - a high level of engagement and commitment from our people who care about their work.
"Melbourne Water's vision, purpose and strategies inspire me as a leader."