Hero Image

Four-way approach to protecting our platypus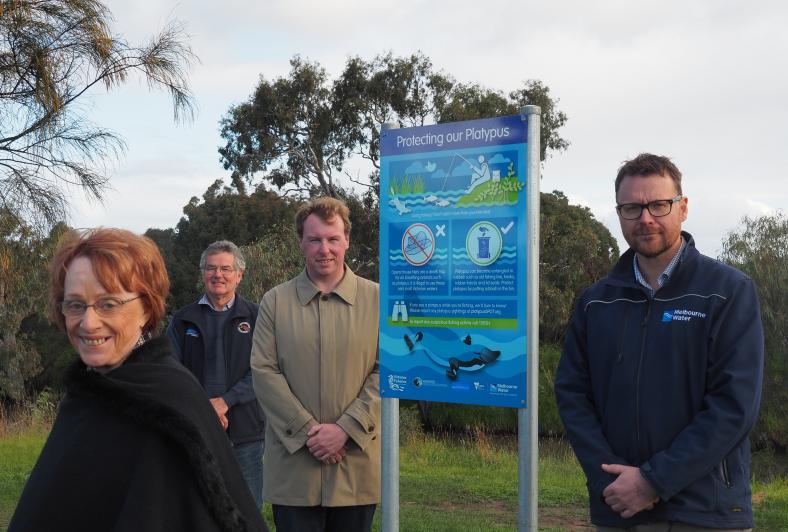 Melbourne Water is working alongside Victorian anglers to protect the Werribee River's vulnerable platypus population.
Signage has been installed along a 7km stretch of the Lower Werribee River to raise awareness of safe fishing practices and encourage the community to protect the river's platypus population.
Melbourne Water has partnered with Wyndham City Council, The Werribee River Association and Victorian Fisheries Authority to "Protect our Platypus" and continue supporting platypus and the environment.
The signs also remind anglers that it's illegal to use Opera House nets in all Victorian public and private waters.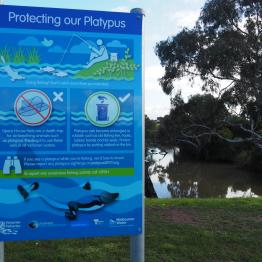 The use of Opera House nets has now been completely phased out thanks to the support of recreational fishers, tackle stores and the community.
Melbourne Water's Regional Services Team Leader (Werribee) Thomas Hurst, said entanglement in rubbish and fishing equipment such as old fishing line and nets can be a threat to aquatic animals, such as platypus, and may cause severe injury or death.
"Melbourne Water encourages Victorians to enjoy Melbourne's waterways and the recreational opportunities they provide. We are asking the community to do their part to continue their help in protecting this vulnerable, and iconic, species from threat" he said.
Werribee River Keeper John Forrester congratulated all authorities involved for their efforts in protecting the river's platypus population.
"This initiative is welcomed as our data shows nearly 40 per cent of our platypus have injuries and death caused by soft or hard circular plastic, litter or rubbish," Mr Forrester said.
Wyndham City Council Environment and Sustainability portfolio holder Cr Heather Marcus said improving the health of the Werribee River through the protection of native habitat was a key action in Council's City Forest and Habitat Strategy.
"We have been planting many native trees, shrubs and grasses along the riverbanks to provide food and shelter for native animals, while preventing erosion," Cr Marcus said.
"This is important because the banks of the river are where the platypus build their burrows."
Visit the Melbourne Water website for more information how you can help us preserve the platypus population.