Hero Image

Endangered orange-bellied parrots take flight from WTP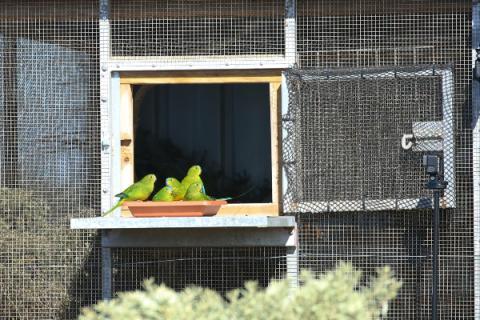 Our world-renowned Western Treatment Plant at Werribee was one of three locations where dozens of endangered orange-bellied parrots have been released into the wild as part of a program to save the birds from extinction.
Overall, 36 birds were released by wildlife careers from aviaries at WTP, on the northern shore of Western Port Bay and on the Bellarine Peninsula. Ten were released from two spots at WTP at The Spit Nature Conservation Reserve.
It's the fifth year of this ground-breaking trial being delivered by DELWP, Zoos Victoria and Moonlit Sanctuary Wildlife Conservation Park.
We're supporting this project along with the Corangamite Catchment Management Authority, BirdLife Australia and Parks Victoria, through funding from the Victorian Government's Icon Species Program, Zoos Victoria, the Australian Government's National Landcare Program and Moonlit Sanctuary.
Five years ago there were less than 50 orange bellied parrots, and only four females, left in the wild, but a large-scale captive-breeding and release program has managed to boost numbers significantly in just a few years.
It's hoped they will attract other parrots that are currently migrating to Victoria from south-west Tasmania, and together the birds will establish flocks in high-quality habitat.
"The Orange-bellied Parrot is one of the world's rarest birds and innovative projects like this are vitally important to ensure its survival," said Minister for Energy, Environment and Climate Change Lily D'Ambrosio.
"In the last four years this species has gone from being at imminent risk of extinction in the wild, to numbers in the wild being at a 10-year high – and it's wonderful to be part of the recovery program during this exciting time."
The parrots spend summer breeding in Tasmania where they nest in the hollows of eucalypt trees near button grass plains. They migrate to spend winter in South Australia and Victoria, where they usually stay within 3km of the coast.
They are one of only three migratory parrot species in the world.
Orange-bellied parrots are fitted with leg bands and the released birds are also fitted with radio trackers.