Hero Image

Development of world first technology earns Melbourne Water place in prestigious innovation industry list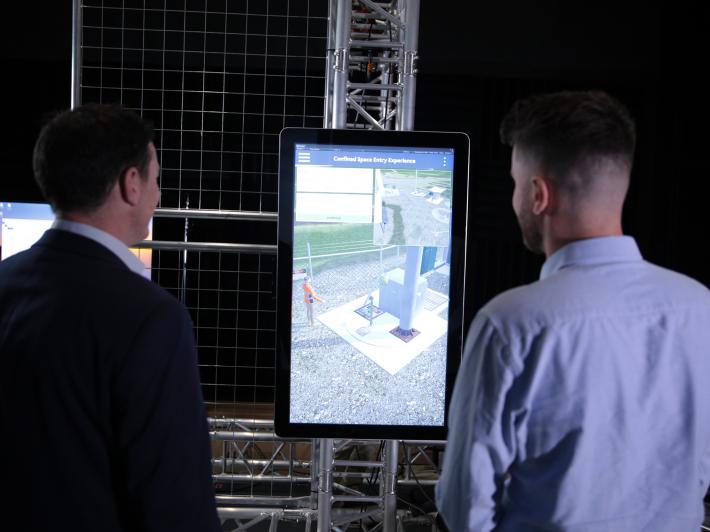 Melbourne Water has again been named as one of the most innovative companies across Australia and New Zealand in the influential AFR BOSS Most Innovative Companies list.
The annual list, now in its ninth year, is published by The Australian Financial Review and Boss Magazine.
Melbourne Water received the nod for its development of a world first Confined Space Entry simulator in partnership with Deakin University's CADET Virtual Reality Training and Simulation Research Lab.
Managing Director Michael Wandmaker said this cutting edge technology would improve safety training for Melbourne Water employees and contractors.
"Our people regularly enter confined areas like sewers to conduct maintenance and repairs. This technology allows them to virtually experience the space and hone their safety skills.
"Innovation is an area of our business that we invest a lot of time and energy into and our people are constantly exploring the opportunities for change to improve the way we work.
"Our Confined Space Entry simulator is a great example of this.
"It's an honour to be acknowledged in the AFR Boss Most Innovative Companies List for the second year in a row" Mr Wandmaker said.
The list was split into 10 industry-specific categories and Melbourne Water ranked fifth in the Government, Education and Not-for-Profit category – the second year in a row we've featured in the top five on this list.
The prestigious list is based on a rigorous assessment process managed by Australia's leading innovation consultancy, Inventium, and a panel of industry expert judges.
The assessment measures a top innovation implemented in the past two years. Judges look at how valuable the problem is that the innovation is solving, the quality and uniqueness of the solution, and the level of impact that the innovation has had.
More than 600 organisations nominated from across Australia and New Zealand for the 2020 awards. The full list can be viewed here.
Mr Wandmaker said the technology has huge potential to be replicated across the wider water sector, as well as other industries in which confined space work is common – such as mining, oil and gas.
Media: Bradley Green – 0429 407 152