Hero Image

Celebrating the Year of Indigenous Languages
Melbourne Water is hosting a public Aboriginal art exhibition, Yaluk Biik Baan, meaning 'River Land Water' in Woi wurrung language to help celebrate the International Year of Indigenous Languages.
The art show is curated by The Torch, an organisation that provides art, cultural and arts vocational support to Indigenous offenders and ex-offenders in Victoria. Proceeds from the sale of the art pieces go back to the artists. This not only supports a vocational pathway for the artists, but also gives them the tools they need to make a positive change.
The exhibition is part of a week-long celebration of Aboriginal culture and languages, which includes several events delivered by Traditional Owners.
Hosted in the 990 Docklands Foyer, Yaluk Biik Baan is open to the public and features a number of artworks depicting Victoria's two main river systems – the Birrarung (Woi wurrung for Yarra River) and the Dhungala (Yorta Yorta for Murray River).
As well as supporting the artists, the exhibition will aid the Peter Cullen Trust Indigenous Scholarship, which funds Aboriginal people to participate in a Trust program for water and environment managers. 
"I am pleased about the opportunity for this exhibition to help support both the artists and the careers of young Aboriginal people in the water industry," said Michael Wandmaker, Managing Director of Melbourne Water. 
"As 2019 is the International Year of Indigenous Languages, we acknowledge and value the crucial role languages play in the customs of Aboriginal and Torres Strait Islander people, and recognise the importance of keeping these languages alive into the future."
Tom Mollenkopf, CEO of the Peter Cullen Trust said: "We greatly appreciate Melbourne Water's support. Helping fund an Indigenous Scholarship builds capacity and bridges science, people and the environment – both for an Aboriginal leader and others in our program."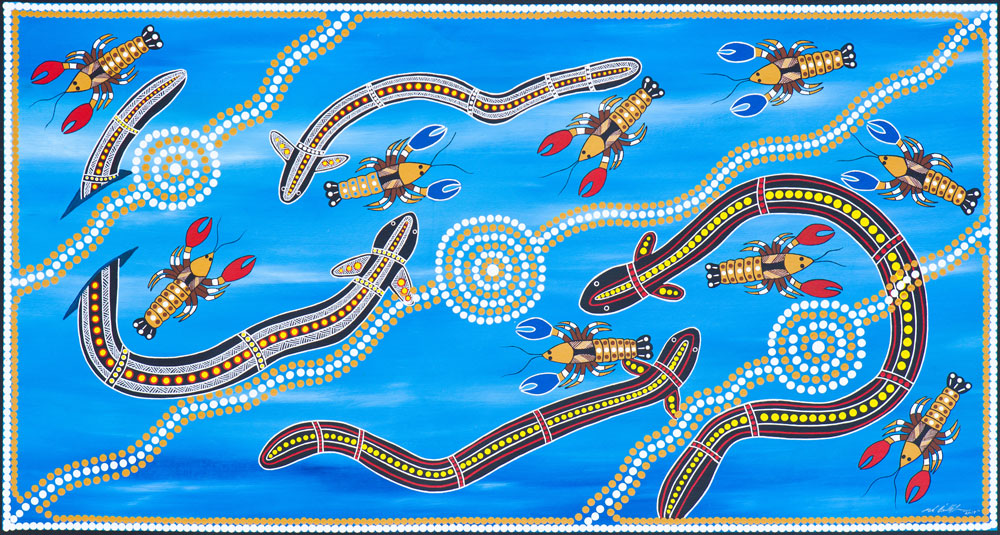 Returning to Country, 2018, Mark, Wathaurung People. The eels have been out to sea on the breeding migration and after many long months have finally returned to Country where, they are being greeted by the crayfish who have been waiting for their return.
Yaluk Biik Baan
Friday 9th to Friday 16th August
990 Docklands Foyer
8:00am to 6:00pm
 
Media 0429 219 084