Hero Image

Australian-first drain upgrade led by Melbourne Water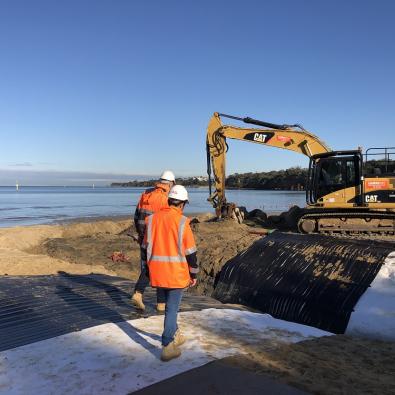 In an Australian first, Melbourne Water is using internationally pioneering technology to complete a major upgrade of a vital outlet drain and prevent flooding at a popular Mentone beach strip.
The works were crucial for the safety and function of the drain after a combination of events - including sand blocking the drain opening and flooding from heavy rainfall - caused it to fail.
The water corp is the first in Australia to use the ground breaking earth-reinforcement technology to ensure that the drain – which channels stormwater into the sea – cannot become blocked with sand and other erosion.
Project Manager Josh Kar says one of the products - a geo-synthetic material called ParaLink – has been shipped from overseas and used in the Mentone project for the first time in Australia.
"It's great to be leading the way in Australia by using this new reinforcement product which is the strongest of its kind on the market and has a working life of hundreds of years.
"What makes it unique is it's highly resistant to chemicals, micro-organisms, UV and mechanical damage. This makes it a great fit for this drain as it will eliminate corrosion and secure the culverts down to resist the pounding force of the sea water.
"Maccaferri, the Italian company that makes this product, is watching these works with keen interest," Mr Kar said.
The four culverts closest to the beach were also replaced. The new culverts have side openings which allow any sand build up to flush out. The drain is located just north of the Mentone Lifesaving Club and essential for managing stormwater runoff to alleviate potential flooding issues further up the drainage network.
For the past few months, the project team from Melbourne Water's construction partner Aqua Metro Services have been a familiar sight at the area along the Beach Promenade working on fixing and improving the drain. That work is now complete.
"Our construction partners, Aqua Metro Services, have done an amazing job throughout the past three months of onsite work - all the while battling continually changing tides and bursts of inclement weather. Beach users often stopped to watch the excavators in action and feedback from the community is that they are pleased and grateful the drain is now operational and the area rehabilitated," Mr Kar said.
The project was a collaboration between the City of Kingston, local residents and businesses, Mentone Lifesaving Club and the Department of Environment, Land, Water and Planning.