Hero Image

An App way to track rubbish hot spots in Sunbury
Melbourne Water is encouraging the Sunbury community to join an ever-growing global digital community that is aiming to help clean up the world.
The Water Authority is trialling the use of the Litterati App as a way to gather data on litter hotspots and then target those areas for clean-up.
Now, in an exciting initiative, Melbourne Water is calling on the Sunbury community to join the Litterati  'Sunbury Challenge' and lend a hand.
Litterati is a geotagging App that allows users to photograph and tag rubbish and identify the most commonly found items using key words.
Brightly coloured signs have been installed across Sunbury's bike paths, footpaths and at the train station encouraging the community to download the App, sign up and help provide Melbourne Water with data where litter is prominent.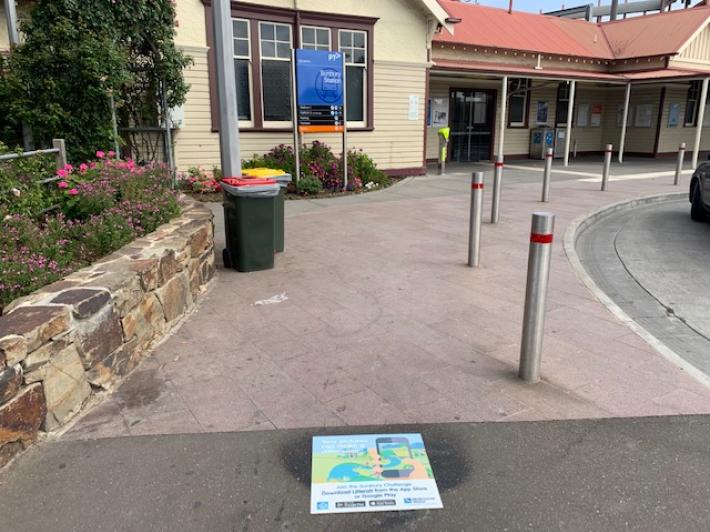 Melbourne Water's Education Officer Jane Petch said the program has the support of Hume City Council and several community groups have also been approached to help promote the message.
"Litterati is a simple concept. If you see piece of rubbish, don't just ignore it. Take a picture, share it and then pick it up and throw it away or recycle it," Ms Petch said.
"We know that 95 per cent of the litter washed up on our beaches comes from suburban streets through the stormwater system and we need to solve this problem at the source.
"Melbourne Water spends more than three million dollars a year cleaning litter from our waterways. That's essentially just under 1500 cubic metres of rubbish cleaned out of our rivers and creeks.
"Jacksons Creek, which winds its way downstream into the Maribyrnong River, is home to a significant platypus population that the local Sunbury community is passionate about protecting. This is another pressing reason to stop rubbish impacting their environment. Platypus forage for food in the creek, which makes them vulnerable to being entangled and injured in litter like elastic bands or hair ties that can slip over their heads.  
"Litter prevention is everyone's responsibility and Melbourne Water asks people to bin their rubbish and help protect our city's precious creeks, rivers and streams."
The Litterati App can be downloaded from the App store or Google Play. Click here for more information about the impact Litterati is having around the world.
Get involved
If you would like to join in this community effort to gather data on litter, here's how you can get involved:
Download Litterati from the App store or Google Play
Create a user name and log in
Under Community scroll down to Nearby Local Challenges
Click on View all
Search for Sunbury Challenge
Tap on the challenge and view
Click Participate.