​The Stonnington Biodiversity Wetlands project has improved the treatment of stormwater and created habitat for native animals.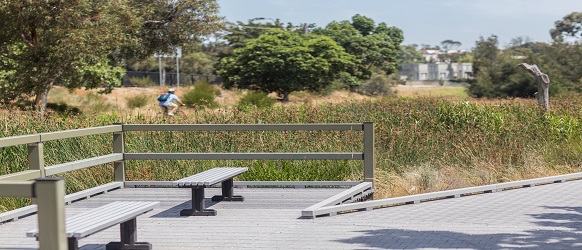 ​The wetland system passively treats stormwater from the Hedgley Dene main drain to improve the quality of water that enters Gardiners Creek and ultimately the Yarra River. A range of pollutants in the water are removed during treatment.
The Stonnington Biodiversity Wetlands now consists of two relatively deep ponds and a small pond interconnected by rock weirs and surrounded by vegetation. Native species have been planted throughout the wetlands and on the pond edges.
Partnership outcomes
The Stonnington Biodiversity Wetlands meets Living Rivers objectives by:
helping the health of our waterways and bays by improving stormwater quality and reducing stormwater quantity
creating greener open spaces and enhanced urban landscapes
reducing flood risks
improving amenity in our local community