Youell Street sewer renewal
We are upgrading sections of two sewer systems in Seddon and Footscray as part of Melbourne Water's four-year, $100-million program to upgrade ageing sewer pipes and manholes across Melbourne.
Why this is important
These sewers are part of Melbourne Water's 400-kilometre network of underground pipes and tunnels, which safely transfer over 320,000 million litres of sewage to our treatment plants each year. Much of this world-class sewerage system was built over 100 years ago, and some sections are coming to the end of their working life.
The Youell Street branch sewer (YOU)  was constructed in 1897 as a single ring of bricks and stoneware ceramic pipes. The Youell St intercepting sewer (YSI) was constructed in 1983 to intercept flows upstream of the YOU and is constructed of precast reinforced pipes and vitrified clay pipes. Routine maintenance inspections of the sewer systems found that upgrade works are needed to keep this vital asset functioning and providing a safe and reliable service to the community for at least another 50 years.
The sewer systems, located west of Whitehall Road in Seddon and Footscray are vital to transfer wastewater flows from Melbourne's inner western suburbs to the North Yarra Main sewer to where it is eventually treated at the Western Treatment Plant.
What's happening and when
Melbourne Water has engaged Safety Focused Performance Joint Venture (SFP JV) to undertake these works on our behalf.
The sewer relining works will occur progressively working via 16 manholes situated along the Youell St branch sewer and Youell St intercepting sewer. Early works will commence in November 2020 with relining works to commence early 2021 and will take approximately 8 months to complete.
We are using a number of techniques to complete the upgrade:
1. Spiral wound-in-place liner: This involves dropping a machine down an existing manhole to coat the inside of the sewer pipe with a PVC liner. The machine moves along the sewer unwinding the liner and sticking it to the walls of the existing sewer. Once complete, grout is used to fill any gaps.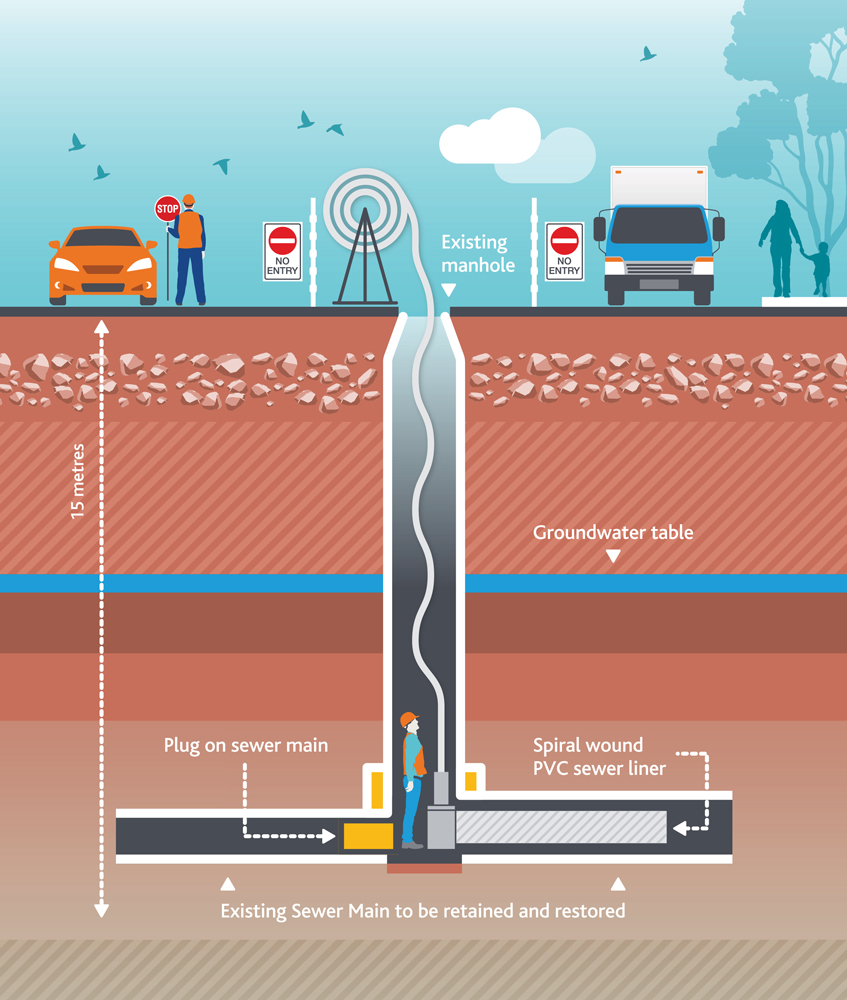 2. Cured-in-place pipe: This involves running a liner from an existing upstream manhole to one located downstream. The liner is then expanded to match the size of the sewer pipe and cured using UV light. The liner, once hardened, will strengthen the sewer, allowing it to provide many more years of service.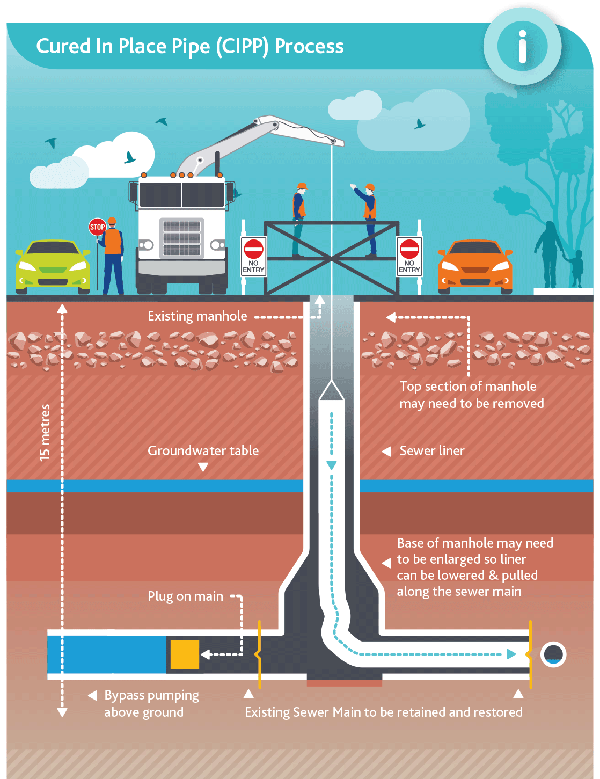 3. Bypass pumping will be carried out in sections of the works program. This involves connecting a temporary above ground pipe to an upstream manhole and diverting flows to another manhole located further downstream. This makes it safe to complete works and allows local sewerage services to keep operating at all times.
The location of the bypass pumping equipment will be determined closer to the start of the works. We will keep the local community informed about the location via door knocking and the distribution of community bulletins.
Location
We are upgrading sections of two sewer systems in Seddon and Footscray – the Youell Street branch sewer (YOU) and the Youell Street intercepting sewer (YSI). The upgrades will be delivered along approximately 1.1km and will involve rehabilitation works to install a watertight liner and undertake repairs.
Timeline
Early works including cleaning will commence in November 2020 and take approximately one month to complete, weather permitting.
| Stage | What's happening | When |
| --- | --- | --- |
| Cleaning | Before any relining works can commence the sewer needs to be cleaned and scanned to assess the condition. This will involve removing the ladders to ensure the equipment can be safely lowered into the sewer pipe. Some cutting of the road and concrete will also be needed to set up the equipment above the manhole. | Nov / Dec 2020 |
| Relining | This stage will involve relining the sewer using the selected methodology, either UV CIPP or spiral-wound SRP. | March 2021 |
| Reinstatement | We will reinstate road and concrete surfaces surrounding each manhole to their pre-existing condition or better. | August 2021 |
What to expect
We do not anticipate any impacts to your water or sewerage services during the works.
If you experience an issue with your sewerage service, contact your water retailer: City West Water (132 642).
We will do our best to minimise disruption, however it's likely that nearby residents will notice:
Noise: During work hours there will be noise from motor vehicles, machinery and generators. Some noise is expected as part of the night works. We will do as much as possible to reduce these impacts, including setting up sound matting around generators and site barriers.
Odour: Some odour is expected when carrying out the works, as a result of harmless gases escaping manholes when opened. We aim to minimise and localise this as much as possible.
Traffic (parking, cyclist and pedestrian): There will be temporary changes to traffic conditions including lane closures, road closures, parking restrictions and alternative driveway access for some properties. Minor detours may be required for pedestrians and cyclist, and we encourage you to be careful around work area and observe new signs.
Heritage and environment: There is no vegetation removal expected. In some case we may need to undertake some trimming or alternations where trees are located in close proximity to the area of works. We will be working closely with Maribyrnong City Council. 
Work hours
Night works are required for most of the relining works, when sewer flows and traffic flows are at their lowest. This makes it the safest time for crews to be working in the busier streets and reduces impacts to the wider traffic network.
Night works are generally Sunday to Thursday from 9pm to 7am. Outside these hours quiet work may take place. 
More information
Contact us
If you have feedback or would like more information about this project, contact us.