Dights Falls fishway upgrade
We have completed upgrading Dights Falls fishway. We would like to thank the local and wider community who regularly use the area for your patience and understanding during this project.
Temporary fencing is still in place to ensure the area's Hydroseeding is given the best chance to germinate. The fencing will be removed and the area opened up to the public by the end of May 2020. Further planting will be completed towards the end of May 2020, weather dependent.
Built in 1895, Dights Falls weir today plays an important role in controlling water levels in the Yarra River – pooling water for approximately 17 kilometres upstream and protecting the river's important social, economic and environmental values. The weir was upgraded in 2012 to improve its structure and build a fishway to support native fish migration. Fishways, or fish ladders, are simple structures commonly used in Victoria to allow fish to pass man-made structures such as weirs, dams, floodgates and roads. 
As part of a regular review of our weirs and fishways, we identified that the Dights Falls fishway needed a secondary entry point to further improve it. The upgrade was undertaken working in partnership with the City of Yarra and Wurundjeri.
Why this project was important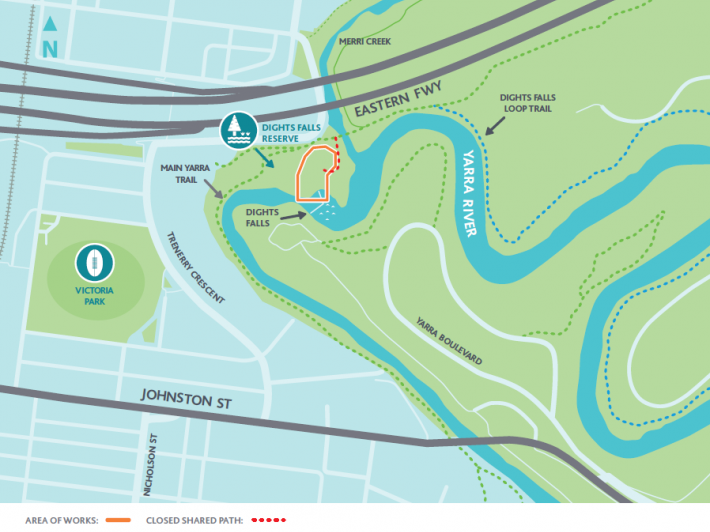 The upgrade to Dights Falls fishway will increase the number of native fish using the fishway, and ensure they can still migrate during high flows in the Yarra River. 
Studies have found that Victoria's native fish are sensitive to high flows in a river or stream, which can cause the water to be too turbulent for the fish to swim upstream. To help support native fish populations in Yarra River, the upgrade provided a second, less turbulent, entry point.
The majority of Victoria's native freshwater and coastal fish species need to undertake some form of migration during their lifecycle. Fish passage upstream is critical in supporting many of these Australian native fish species as it allows:
adult fish to move to and from spawning habitats
juvenile fish to disperse to new habitats
access to feeding grounds
recolonisation of new habitats
exploratory movements and habitat selection
access to and from refuge areas during droughts or floods.
Community bulletins