Browns Reserve Drainage Pump Station Upgrade
Melbourne Water is undertaking work to upgrade the Browns Reserve Drainage Pump Station. Work is due for completion in mid-2020.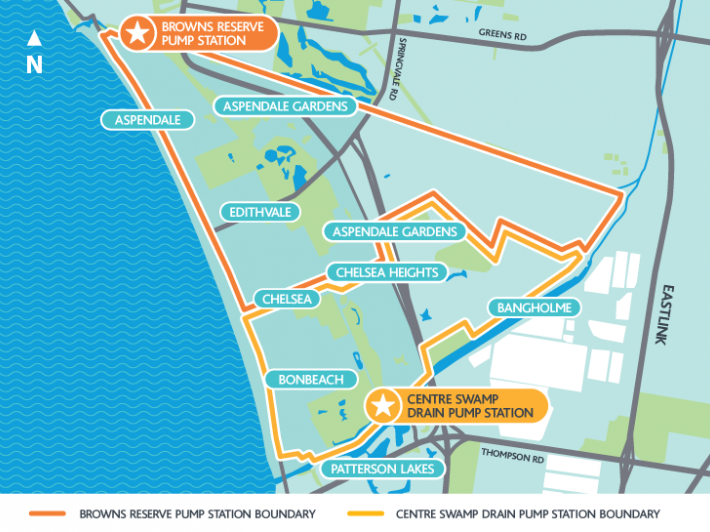 The Browns Reserve Pump Station mitigates flooding in the Aspendale and Edithvale areas by pumping rainwater downstream to the Mordialloc Creek.
The project will improve pump station's overall reliability by providing automated, high-capacity water pumping during rain events as well as emergency backup power if a mains power outage occurs.
What's involved
The project involves:
Installation of new automated pumps (four large and two smaller pumps)
Temporary changes to the shared use path around the reserve
Installation of a generator to provide backup power if required during power outages.
Location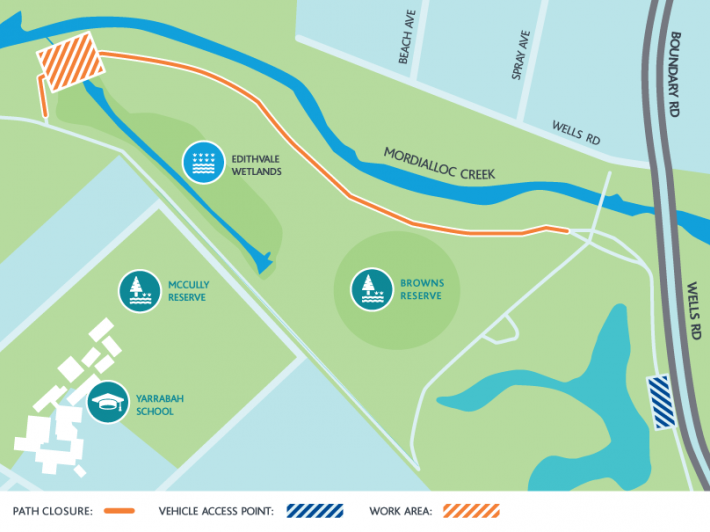 Most of the works are being undertaken within the confines of the pump station walls, with two temporary bypass pumps installed next to the pump station.
The access track is closed to the public as there is no way to pass the construction area.
What to expect
Noise
While replacing the old pumps we have set up two temporary bypass pumps outside of the pump station. These pumps will turn on periodically when water reaches a certain level. Once two of the larger pumps have been installed the use of the temporary pumps will diminish. Once all pumps have been installed the temporary pumps will be removed entirely. 
We have completed noise monitoring to ensure compliance with EPA guidelines, and further sound matts have been erected around the temporary bypass pumps to further reduce the noise level. The temporary bypass pumps are also regularly inspected to ensure they are running optimally and quietly. 
Closure of the walking path
For public safety we have closed the path that runs along the side of Mordialloc Creek near the pump station. Once the works have been completed the temporary fencing will be removed.
Increase in vehicle movements
You will notice an increase in vehicles using the walking path from Wells Road to the pump station. There may be times when the path is used for larger deliveries. There will be traffic management in place when this occurs.
Work hours
Works to upgrade the pump station will take place from 7am to 6pm Monday to Friday, and some Saturdays from 7am to 1pm.
Your feedback
We value your feedback. If you wish to contact us with your comments or for more information relating to the project please contact:
For further information, please see the community bulletin: